Danish designed speaker
Hand Build On Wall Perfection
Copenhagen On Wall – An elegant on wall speaker with true high end performance and a perfect fit to the modern living room. Designed and hand build in Denmark for unmatched finish and sound quality.
"Danmark is a nation of proud speaker manufactors as Dynaudio, Dali and now also Dissing, or more precisely Lyd by Dissing [Sound by Dissing]"
An integrated listening experience
Here at Lyd by Dissing we have created an on wall speaker that discreetly and effortlessly integrates into the modern living room. It becomes a natural part of the wall and the room.
The main cabinet is finished in a mat off-white colour to match your existing interior and furnitures.
Our Copenhagen On Wall speaker is designed to sound as good as possible with the on wall placement, making it a perfect match between sound quality and looks.
Read more about why the on wall placement is a really good idea here.
"Lyd by Dissing only presented a single thing, there model 1, a pretty serious on wall speaker…the idea of a hifi speaker in a sleek design that doesn't take up much space seems too attract a crowd." - nerds.dk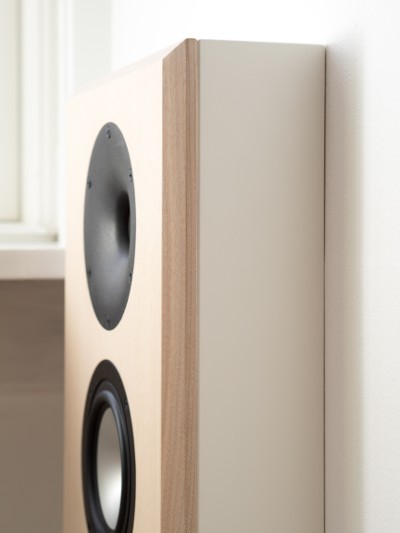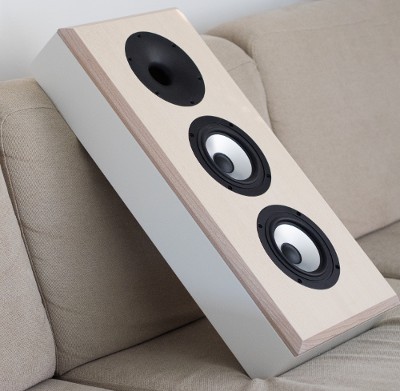 The speaker is part of the interior
We mean it when we say "our on wall speaker is a piece of furniture". That is exactly why we have chosen materials and a finish that matches even the most high end nordic furnitures. Both in quality and style. Our skilled cabinetmakers are building and finising each speaker by hand to ensure the best possible finish.
A good piece of furniture must integrate into the existing interior in stead of sticking out. With the off-white back and Ash wood finish on the front, our on wall speaker will seamslessly become a natural part of the interior and living room.
The placement on the wall ensures that you always will be able to place the speaker in its most optimum position, ensuring true high end listening and at the same time not making a compromise with the placement of the rest of your interior.
Wide and open sound stage
We have purposely designed our Copenhagen On Wall speaker for an on wall placement and it is clearly heard that we haven't made any compromise when it comes to sound quality.
The high end sound reproduction is achieved by a combination of top self components parred with a well implemented sound design. As the speaker is wall mounted, toe-in is not possible, therefore it has been important for us to ensure a wide horizontal dispertion and a good three dimentional sound stage. This is achieved by mounting the tweeter in a waveguide and by lowering the crossover frequence to 2kHz.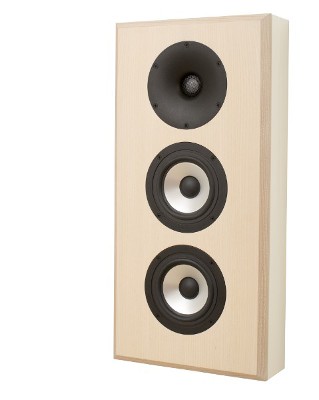 Ash

We really like the combination of the light ash front combined with the off-white back, they complement each other very well and are both key ingedients in nordic design.

Read More.

Walnut

If you appreciate a bit more contrast, walnut is a most. It's warmer glow gives it an exclusive feel.

Read More.

Oak

The beautiful oak vein gives a sharp look on a white wall. Choose oak if this appeals to you.

Read More.
We have decided to provide our speaker in wood that you can fin in the danish nature, but if you have a different preference let us know.
Kunne tænke dig at lægge øre til vores højttalere? Så skal du være mere end velkommen til at kigge forbi til en lyttesession i vores stue. Vi giver gerne en kop kaffe eller to imens der lyttes. Vi afholder vores demoer hjemme hos os selv, da vi mener det giver det bedste indtryk af hvordan højttalerne og lyden gør sig i en almindelig stue, så du bedre kan få et indtryk af hvordan det kunne lyde hjemme hos dig selv. Det er naturligvis ganske uforpligtende og alle er mere end velkommen. Du finder os her:
Åbjergvej 12M, 2720 Vanløse
Så send os en mail, eller brug formularen til højre, eller ting til os på 20683302 og book en demo hos os. Vi glæder os til at høre mere fra dig.